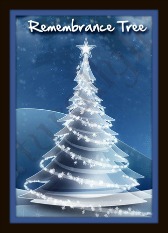 On December 3, 2017 at 6 o'clock pm, the Henrico Volunteer Rescue Squad Auxiliary will host the 1st Annual Remembrance Tree Ceremony at the Squad Building, 5301 Huntsman Road, Sandston, Va.

There will be a candlelight memorial service to honor family and friends who are no longer with us.  It can be someone that you have lost to death, or someone that just is no longer in your life.

An ornament will be available, which can be personalized, to hang on the tree in memory of a loved one.  There will be representatives from the EMS community and remarks from a local minister.
The Remembrance Tree will remain until December 31st, at which time you will be able to remove your ornament as a keepsake.
Light refreshments will be served at the end of the service.