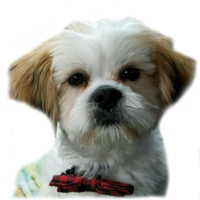 Hi!  My name is Gibson!  I am 6 months old, weigh about 14 lbs and am the newest member of the morning show at Star 100.9 with Bill Bevins and my mom, Shelly Perkins.
Lots of people want to know what kind of dog I am!  Well, my mom says that I am sweet and funny and a little rotten (I'm sure I don't know what she means by that!)  Other than that, I am a Shih Tzu.  I know, I don't look like a lot of Shih Tzu's, but we are really all the same….my nose is a little longer that's all!
I don't have too many responsibilities at Star 100.9.  I have to be quiet while we are on the air…which is fine since I don't say much anyway.  I have to be willing to be petted and adored and I have to give lots of love, kisses and joy to everyone who works with us.  It's a tough job, (hey, it's not easy to love DJs…they  are so weird) but somebody has to do it.  As long as I get treats, I am hip to it all.
I am, after all, a registered emotional support dog.  And I LOVE IT!
In our family, we always care for others, so from time to time, I am going to ask you for some help as I use my "Paw's for a Cause" .  Hopefully, I will inspire you to get involved and help our friends and neighbors….Both the furry and non-furry friends alike!!
If you want me to know about your favorite cause so I can help please just let me know!  You can also send me photos of your furry loves!
My email is Gibson@Star1009Richmond.com!