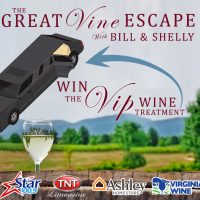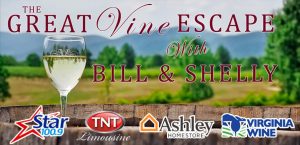 It's the Great Vine Escape with Bill & Shelly!
April is Virginia Vineyard month so we are gonna celebrate Virginia Wine with a VIP trip for you!
First, we'll take our VIP Stars to Veritas Vineyard & Winery in Afton for a private wine tasting and more, and then VIP experience continues at King Family Vineyards in Crozet for Lunch and another Private Wine Tasting! Plus other surprises!
Listen for your chance to win 2 seats on our Star 100.9 TNT Limousine wine tour Fleet Bus
with Bill & Shelly, we will test your wine knowledge!    You could also win by posting your Virginia wine photos by tagging us on on your  social media pages!  Any Virginia Winery any Virginia Wine will get you the chance to win!
Here's Shelly's example….there are many!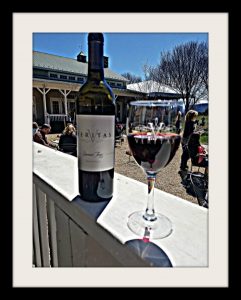 Just include the following  info on your post on Facebook, Instagram & Twitter and we'll check out your
 @veritaswinery @kingfamilyvineyards @Star1009RVA @VAWine
#VAWine #VAvineyardmonth #Star1009RVA
The Great Vine Escape with Bill & Shelly is brought to you by the Virginia Wine Commission, TNT Limousine, Ashley Homestore & Star 100.9!