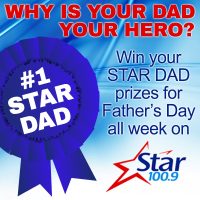 All week Bill & Shelly will help you honor your dad!
We'll get you and your Dad on the phone You will tell Dad why he is your Star!…Your hero!  Dad gets to hear his kid say wonderful things about him and…BONUS he wins great prizes!

Like Tickets to see James Taylor & Bonnie Raitt at Nationals Park on July 14th

And a round of golf at Independence Golf Club!

Friday (June 16th) We will award the Grand prize winner golf lessons from Independence Golf Club Pro Kelly Hall and he can take you with him!!!